Saturday, July 10, 2010
Pennants are everywhere these days... on scrapbook pages, cards, and other paper crafts. You can even find a pennant stamp in the newest Stampin' Up catalog.


That set is for sure on my wish list. I love the scallop pennant!
I haven't used pennants on a layout yet so I decided to sketch something up.
I hope to have time to use this sketch soon. In the mean time, I'd enjoy seeing how your pages turn out. Leave a link to your layout in Mr. Linky below.
Hope you enjoy the sketch!
Monday, February 1, 2010
I hope everyone enjoyed the weekend. Here's a sketch to start of the week.


The only thing I don't like about the layout is the title. I could not think of anything creative.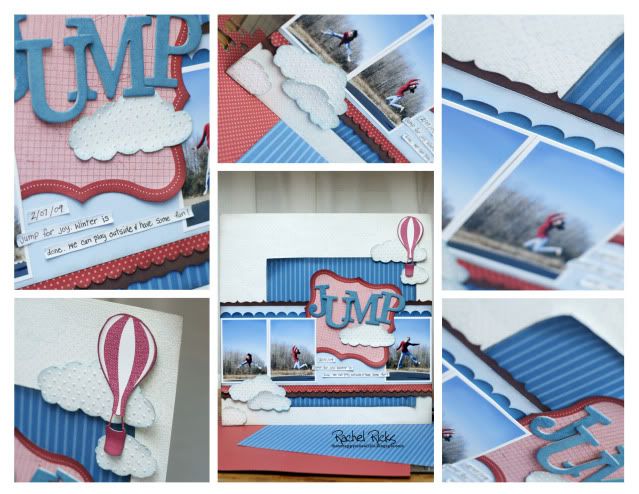 Supplies -
Paper and Cardstock:
Bashful Blue Cardstock
Chocolate Chip Cardstock
The Write Stuff Specialty Paper - this pack includes 3 sheets of die cuts. One being the red shape behind my title.
Tall Tales - I cut the red hot air balloon from this paper.
Discontinued
Pacific Point Patterns and Cardstock
Sweet Slumber Specialty Paper - the cloud paper
Punches:
Scallop Edge
Curvy Label - punched side by side to create the edge on the Chocolate Chip cardstock.
Slit - if you punch the slit punch side by side it will create a large scallop edged strip.
Big Shot:
I used Polka Dots Impressions Folder in the Big Shot to emboss dots onto my popped up clouds.
Chipboard:
On Board Timeless Type - I used a sponge and Pacific Point ink to color my chipboard letters.
Thanks for visiting my blog. Hope you enjoy the sketch. I'd love to see what you create. Please add a link to your layout created using this sketch.
Monday, January 18, 2010
Thanks for the comment pushing me to share more sketches!!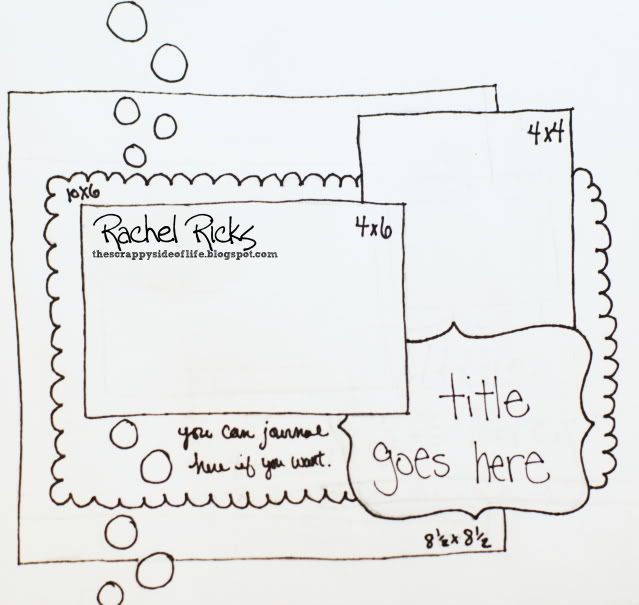 I've inclued the measurements of the papers and photos to help make it that much easier to use and plan your page.
Here's a page I've created using this sketch.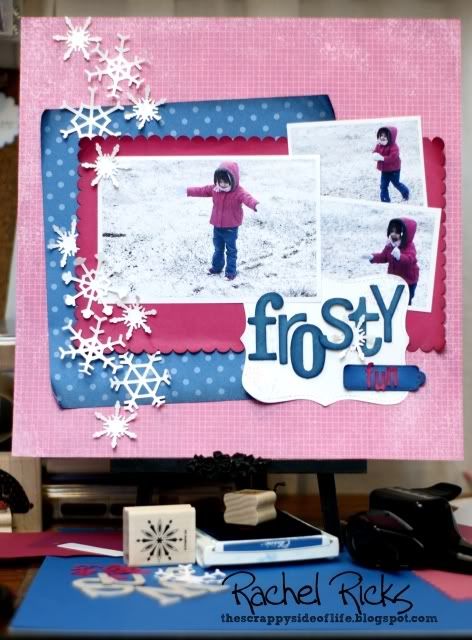 I used snowflakes in place of circles but you could use flowers, butterflies, stars, all sorts of fun things. I titlted the blue paper a little and used two wallet size photos instead of one 4"x4".
Papers:
Razzleberry Lemonade
Melon Mambo
Pacific Point
Whisper White
Punches:
Scallop Edge
Big Shot Dies:
Snowflakes #2 set
Lots of Tags
Top Note
Billboard Decorative Strip
Chipboard
Loads of Letters


Tip
- An easy and quick way to color chipboard is to use a sponge dipped in an ink pad. Don't want to get messy fingers? Use a binder clip to hold the chipboard while you sponge. I used a huge clip but any size should work.
Below you will find Mr. Linky. You can easily share your pages created using this sketch by filing out the form below. I look forward to seeing what you create!!

Hope you are having a wonderful Monday. Thanks for visiting.